Zoom to BOOM! with COTA
Skip the fuss and ride with us
The largest Independence Day celebration in the Midwest is back! COTA offers the safest, easiest and most affordable way for you and your family to get to Red, White & BOOM! For just $4 round trip, you can skip the traffic and pricey parking and get dropped off right where the action is happening.
---
HOW TO RIDE
It's easy to zoom to BOOM! with COTA.
Here's how it works:
Step 1: Meet us at one of four designated Park & Ride locations.
Step 2: Pay for your trip and receive your color-coded wristband.
Step 3: Sit back, relax and enjoy the ride to downtown.
Step 4: Enjoy Red, White & BOOM!
Step 5: After the event, provided information cards will point you toward a COTA loading zone that corresponds to your wristband color.
Step 6: We'll drive you back to your Park & Ride location — that's it!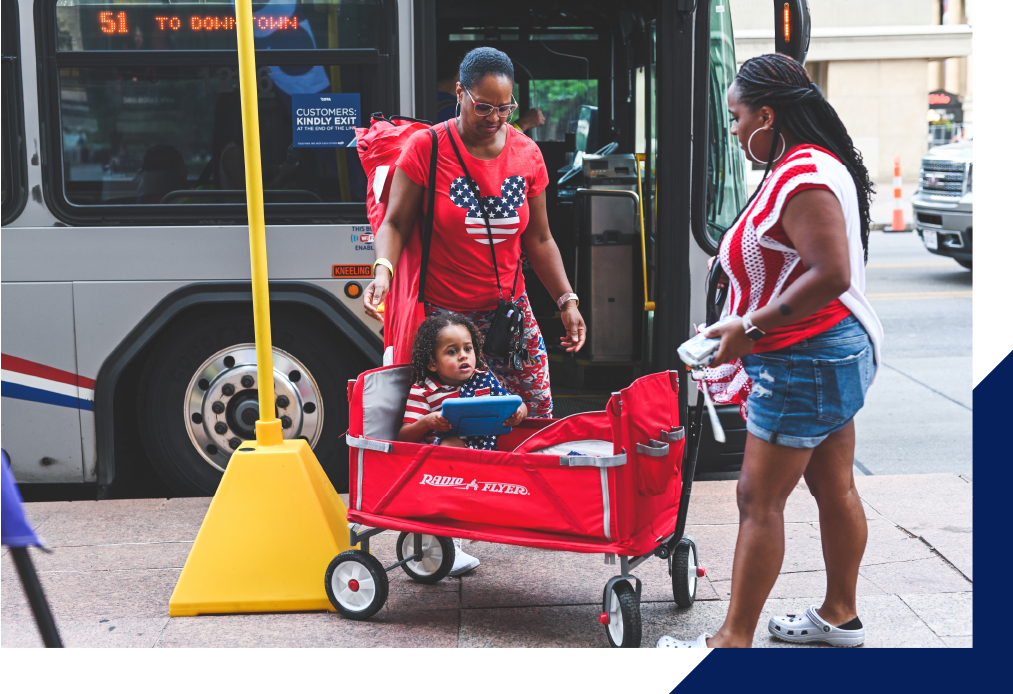 ---
TWO WAYS TO PAY
Zoom to BOOM! is a cashless experience — you'll pay through COTA's scanner system at the Park & Ride before boarding.
ADULTS: $4 round trip
CHILDREN (5-12): $2 round trip
CHILDREN (4 OR UNDER): No fare
DOWNLOAD THE TRANSIT APP
Plan ahead! Download the Transit app and load funds onto your account to cover your fares to and from downtown. You will scan your Transit app at the Park & Ride to receive a wristband, which will give you access to your ride.
PAY VIA CARD
Meet us at your preferred Park & Ride location — there are four designated locations this year — where you can pay using a credit or debit card. You will then receive a wristband that gives you access to your ride.
---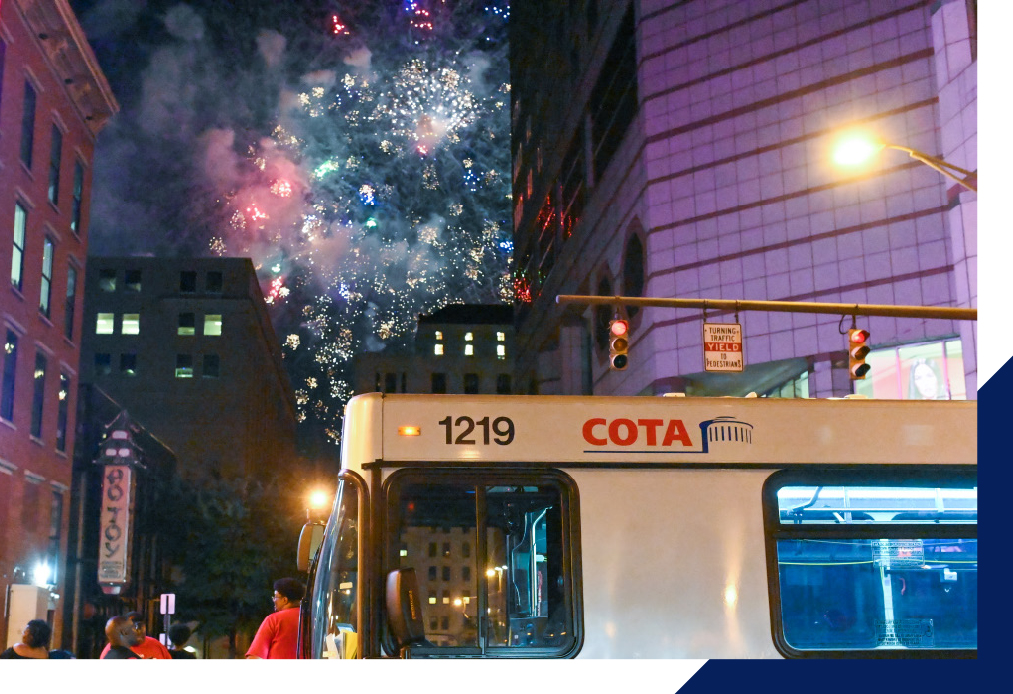 WHEN TO GO
Service from COTA Park & Rides to BOOM! runs from 5:30-8:30 p.m.
Return trips begin at 10:45 p.m. and continue until approximately midnight.
---
BOOM! PARK & RIDE LOCATIONS
Crosswoods
7460 Huntington Park Dr., Columbus, OH 43234
At Crosswoods Center NE of 270/N. High St.
Served by Line 41 Crosswoods/Polaris; Local Line 102 Polaris Pkwy/N. High
Grove City
2321 Old Stringtown Rd., Grove City, OH 43123
Southwest corner of Stringtown & Parkmead Dr.
Served by Line 61 Grove City; Local Line 3 Northwest/Harrisburg
Reynoldsburg
2100 Birchview Dr., Reynoldsburg, OH 43068
Near Birchview Dr. & Eastgreen Blvd.
Served by Line 51 Reynoldsburg; Local Line 1 Kenny/Livingston
Westerville
312 W. Main St., Westerville, OH 43081
East of Cleveland at Collegeview Rd.
Served by Line 43 Westerville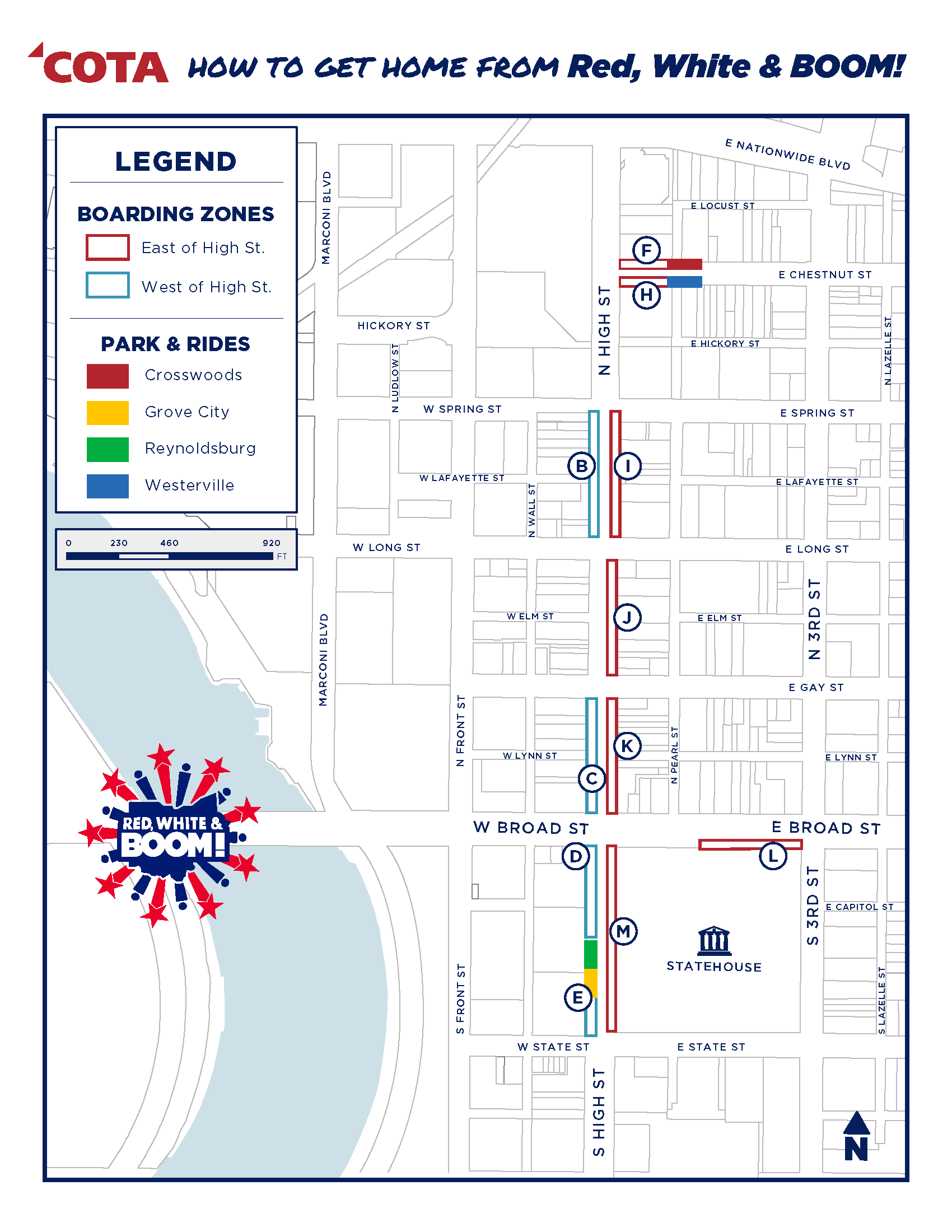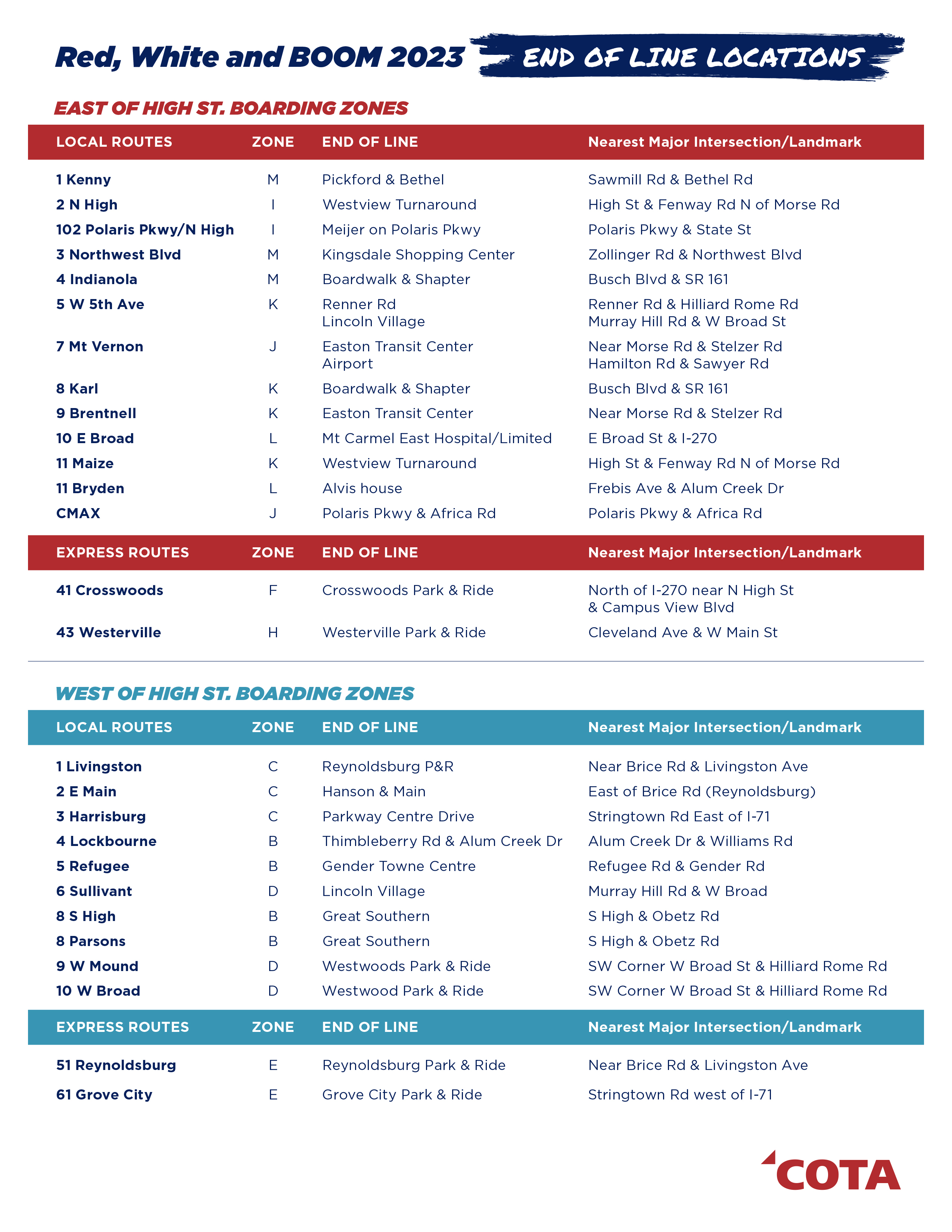 ---
TRIPS VIA COTA LINES
You can take nearly any COTA line for service to the downtown area, depending on your direction of travel. Before you depart, simply plan your route via the Transit app or at COTA.com. If you have questions, you can ask your Operator. We're here to help!
After the event, outbound trips will be available at designated boarding zones. Consult the map to plan your trip: note that there are 13 boarding zones downtown, labeled B through N. Each boarding zone offers service for certain COTA lines.
The following boarding zones service our network of Park & Rides:
| ZONE | COTA Lines | Park & Ride Locations Served |
| --- | --- | --- |
| E | 51 & 61 | (51) Reynoldsburg Park & Ride, (61) Grove City Park & Ride |
| F | 41 | Worthington Crosswoods Park & Ride |
| H | 43 | Westerville Park & Ride |